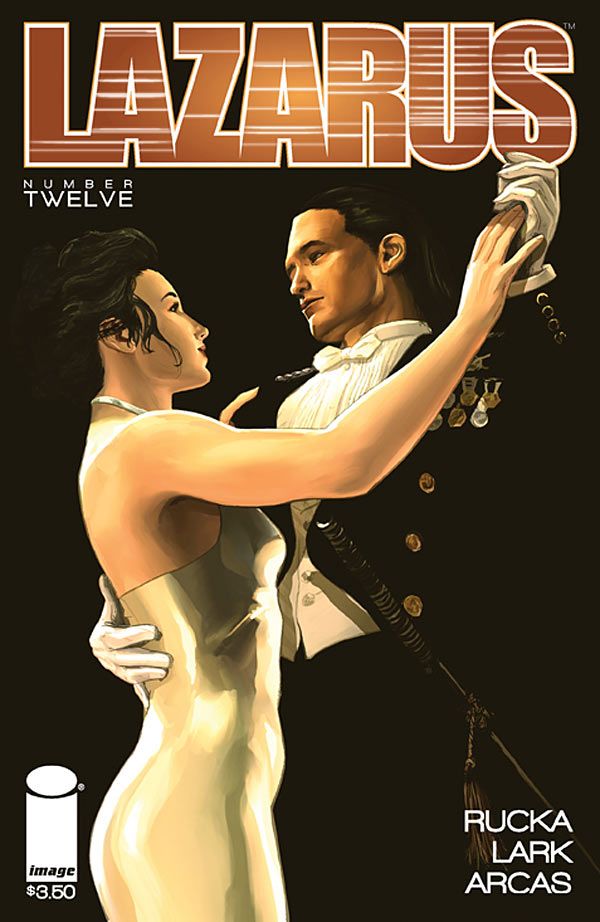 Review by Draven Katayama (loudlysilent)
"Lazarus" has been my go-to pick for an independent comic. Greg Rucka has created an immersive world that feels futuristic but entirely possible — even probable. The world is no longer run by nations but by families. Forever Carlyle, the protagonist, is the Lazarus of the Carlyle family. I like that Rucka has been exploring Forever's identity issues: if her nagging suspicion that she is not a daughter of Malcolm Carlyle is confirmed, what does it mean for her to be the family's protector and champion?
This issue starts on the day of the opening gala of the Conclave of the world-ruling Sixteen Families. It is the first time they have met in sixty-five years. Malcolm Carlyle is increasingly anxious over more families allying with Hock. He tells Forever to take some time to relax before the gala. Forever heads straight for the exercise room to pummel a punching bag. In walks Sonja Bittner, the Bittner Lazarus whom we met last issue. After a few moments of sword sparring and friendly conversation, we meet a delightful new character: Xolani Nkosi, the Lazarus of the Nkosi family.
Actually, we're in for a wave of new characters: the heads of the Armitage family; Sir Thomas; Cristof Mueller, the new Lazarus of the Rausling family. The central personal tension for Forever will be when Joacquim, the hunky Lazarus of the Morray family, takes her by the hand and leads her out onto the dance floor — an empty dance floor in full view of the guests. The final moments feature a teaser interaction between Sevara Bittner and Malcolm Carlyle, and a stunt by Jakob Hock.
Michael Lark's and Santi Arcas' art is detailed and impressive as always. Arcas shows particular care with the blending and shading of crimson-clad, sword-wielding Sonja Bittner's outfit and hair. When Forever, Sonja, and Xolani duel with practice swords, the aerial, athletic movement invigorates the page with kinetic energy. This issue is beautifully drawn and fun to read, but there is no climax or major reveal yet. We do get a sizeable amount of back matter. Rucka is still unveiling his world — every page feels like walking through an elaborate, intriguing video game. I'm still hooked.
RATING: 7.8 out of 10
Release date: October 22, 2014