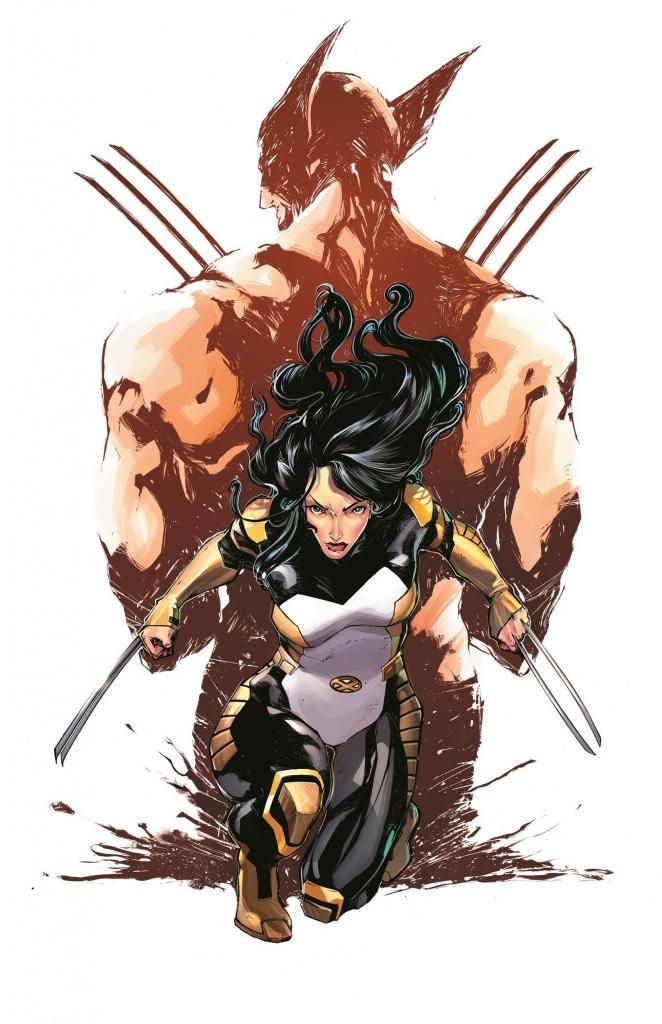 Ariela Kristantina (@ARIELAkris) is one of the newest and most exciting artists to debut in titles this fall. Kristantina shared with Draven Katayama (@loudlysilent) about drawing X-23 in The Logan Legacy, her creative process, and her new series, Deep State.
DK: Congrats on the release of Death of Wolverine: The Logan Legacy #2! Tell us about how you got connected with Marvel and joined this issue as its artist?
AK: Thank you! In 2014, Michael Marts came to SCAD (Savannah College of Art and Design) to review the Sequential Art program. By this time, I had graduated and had lots of Marvel sample pages as my school assignments. I had the opportunity to meet C.B. Cebulski and Jeanine Schaefer during my study and both always gave me support and feedback through emails. My former professor showed the sample pages to Mike and I was told that he was interested in talking to me in person. The dean of the program then set up a meeting for us. Marts contacted me a few days after he got back to his office to offer me a 10-page comic at first. I said yes (who wouldn't?). It was surprising that in the end they offered me a full one-shot which relates to Wolverine. I was freaking out big time.
DK: The Logan Legacy #2 focuses on X-23, a character who has already gone through a lot of trauma recently in Avengers Arena and All-New X-Men. What was your approach to capturing Laura's personality and look, and what was your previous familiarity with her character and with Wolverine?
AK: To be honest, I didn't know much about American mainstream comics before I got to the States. I grew up with manga because American comics were difficult to get and much more expensive compared to manga in the 90s — and still expensive now. I also always loved black and white comics better.
My first encounter with X-23 was when I read NYX in 2005/2006. Someone introduced me to the title and I fell in love at first sight with Joshua Middleton's style, although after that, I didn't look around for more. I found out more about X-23 in All-New X-Men. With Wolverine, I first read Old Man Logan in my first quarter at SCAD. From there, I followed Uncanny X-Force religiously, especially if Jerome Opena was the artist. I practically bought everything he drew between 2011 to 2013. I also read lots of older titles which had Wolverine in them. I am still trying to catch up with everything I have missed.
I learned about how other artists drew X-23 and Wolverine and I tried to stick with the "key look" for both characters. Tim Seeley, the writer, wanted me to portray X-23 in her gothic glory. He also wanted me to add more cute/cool/badass aspects to her. I'd like to think that I, at least, got the gritty/badass part done. I always like drawing sexy characters but I don't want to draw just sexy characters. Plus, when I think of X-23, sexy isn't the first thing that springs to my mind.
DK: Tell us a little bit about your work style: what's your process like on a page from start to finish? Any gear you're a fan of? Any particular music you listen to when you draw?
AK: First, I would doodle on the script — I print it small and use as little paper as possible. Next I redraw them on paper and do a quick outline before sending the thumbnails to the editor/writer. I ink the thumbnails because my pencils are pretty much unreadable. After I get my revision/approval for the thumbnails, I edit and print the thumbnails to do the outlines over them — again, I don't do tight pencil. I send the outlines over to the editor/writer for the last look, then I move to final inks.
I must have my rapidograph — Rotring is my go-to brand, my maru-pen, and my #1 and #2 brush — Raphael 8404 Kolinsky Sable.
Hmm, for music, I listen to almost everything, from hip-hop, pop, to dubstep — I can't stand jazz and country music though. My real interest is the late 80s-early 90s big hair bands: Led Zeppelin, Queen, Guns N' Roses, Def Leppard, Bon Jovi, Tesla, Aerosmith, etc., you get the idea.
DK: Your new ongoing series with writer Justin Jordan, Deep State, just released this week by BOOM! Studios. What has the process of working on the book been like for you, and how would you describe its look?
AK: Working with Eric Harburn and Cameron Chittock from BOOM! and Justin Jordan has been great so far. Everybody is very communicative and quick to respond. Also, the feedback has always been thorough and helpful. The colorist for the interior pages, Ben Wilsonham, brings his own touch and I LOVE his rendering style as well. Matt Taylor and Artyom Trakhanov, both on the cover, are also insanely talented. I think I am very lucky to be given a chance to work with great people in this industry.
Deep State. How I would describe its look… It's a (medium) sci-fi story. It's going to be gritty and rough, of course, as it's what I am most comfortable with. I'd like to think that the story, hopefully the art too, will hook the readers. Every time I see/read the script, it's almost as if I am "watching" an episode from a TV show. I am very drawn to the story and each time I finish reading a script, I always want to read more/the next chapter instead of drawing it first.
DK: Other than Deep State, what other projects are you working on in the coming months?
AK: Well, hopefully, Deep State will run for quite a while. I am still working on Kitchen Death Match (an unannounced title) with two writers, Nicholas Rucka and Grady Hendrix, for Thrillbent. I may or may not have something else for next year but I can't say it for now.