http://www.geekedoutnation.com/review-catwoman-36-selina-crime-boss-protector/: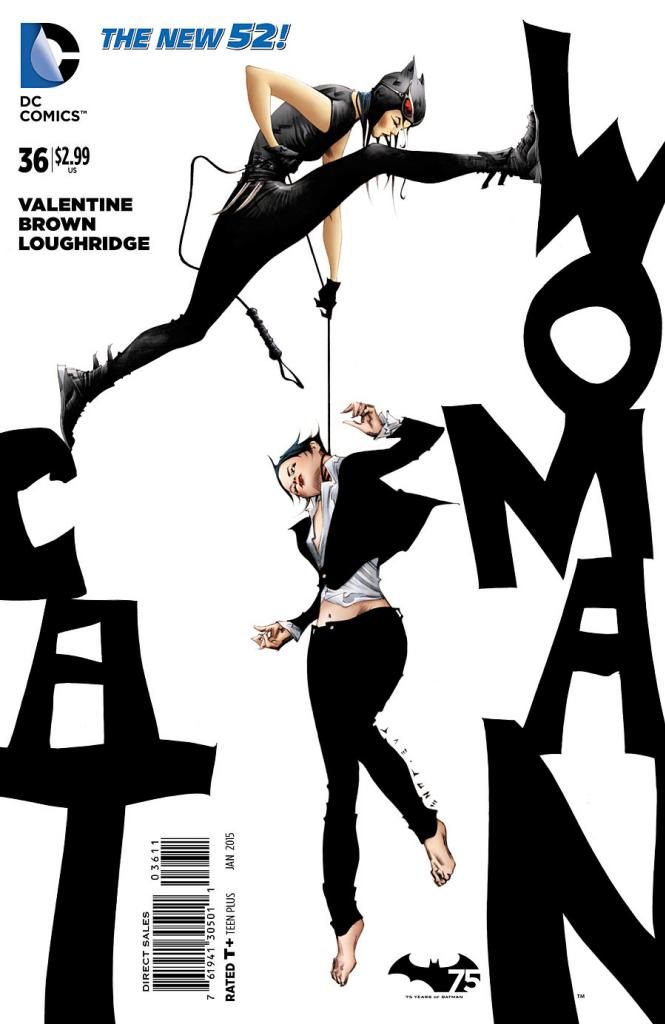 The biggest difference between this issue and the previous issue is that here, many faces are not filled in with detail. This is most noticeable when Keyes and Alvarez are talking together, and when Selina, Nick, and Antonia (Nia) are talking at the Calabrese home. Garry Brown's art is most impressive when decorating interior spaces: I really like the art gallery-like hallways where Selina meets with Eiko Hasigawa. Brown captures Selina's emotion well when she's slouched, almost slumped, against the wall after a rather discouraging conversation with Eiko.
Genevieve Valentine again weaves in quotations from history that mirror Selina's state as a civil servant and protector. Selina references Caterina Sforza, an Italian countess in the 1400s who was daughter of a duke. I like how Selina asks a character in the Calabrese home about her father. You get the sense that Selina knows very little of her father's actions, which is consistent with her orphaned upbringing. To readers of this current volume of <em>Catwoman</em>, very little has been said about Selina's father. Valentine is deepening Selina's character by showing her as a young woman trying to piece together her family history.
We're introduced to a new power player in Gotham: Aiden Mason, CEO of Ascolat Incorporated, a contractor hired by the city to handle major reconstruction. This shady character throws a wrench in the plans of the crime families who already run Gotham City just fine, thank you very much. Valentine is skilled at showing how businesses who appear to work legitimately are often just as corrupt as organizations that fly under the radar.
Another highlight of Valentine's direction is that Keyes, Alvarez, Antonia, and Nick Calabrese play larger roles. I was disappointed last issue that Nia and Nick had only cursory roles as Selina's muscle/loyal supporters. Here, Nia and Selina have a conversation where you get the sense that Selina is feeling her out. Can Selina trust Nia? Why does Nia seem to support Selina so readily and unquestionably? I hope Nia and Nick receive more backstory in upcoming issues.
Keyes and Alvarez are two of my favorite characters in Catwoman, if only for their endless banter and their characterization as an inseparable unit, like Cloak and Dagger. I like that Keyes is unhesitant about verbalizing her displeasure with Alvarez's actions. Keyes and Alvarez are as essential to the background setting of Catwoman as Avengers Mansion or Jarvis is to an Avengers book.
This issue finds its sweet spot in two of the last four pages, when Selina has a dramatic encounter with a very unexpected character. Before then, Genevieve Valentine is laying down the complexities of Selina's role as overseer of the crime families, and protector of a city she cares about. It's sometimes hard to keep track of the cast members — a key person in the Calabrese home is a man who was named last issue but not named here. Valentine is setting up an interesting dynamic between Selina and her surprise foil. Valentine's choice of foil is smart, clever, and promising.
RATING: 8 out of 10